Inside: Here you'll find a not so minimalist list of gifts for minimalists of all ages. *For your convenience this post may contain affiliate links at no additional cost to you. As always, shop around and buy used first. 
---
Curb the Clutter
The holidays are fast approaching. They have me decluttering and prepping in order to confidently take on this season of excess.
Prior to minimalism, I would go absolutely crazy purchasing gifts for my family. Each year, worse than the previous one. I thought it was just my thing.
Click here for our Before and After Story
However, this Holiday season doesn't have to be like every other. We don't have to impulse purchase and spend a crazy amount of money, causing our family and others to accumulate unnecessary items. Items that ultimately provide short term joy, and long term clutter.
When your perspective on purchasing and owning material items changes, it will inevitably flow into the way you give and receive gifts.
A "less is more" approach to gifting during the holidays will help you cut back on the clutter while stock piling your favorite things about Christmas: closeness, connection, memories and cozy moments.
This post is packed with a not-so-minimalist list of gifts for minimalists of all ages. Here you'll find everything from simple, tangible gifts to wild and crazy experiences.
Note for 2020: A handful of these ideas are simply unavailable to us during 2020. Experiences are hard to come by this year, but that doesn't mean we have to give more random gifts this year. It simply means we need to get more intentional. 
Here's to curbing the clutter, preventing accumulation and opting to give with intention this Holiday season!
100 Christmas Gifts for Minimalists
Movie theater tickets
Car detail service
House cleaning, organizing or decluttering services: Organizing With Katie Love -local favorite
Consumable products
Salon blow out: Refined Beauty Hair Salon, Rouge Hair Studio – local favorites
High end beauty product they'd never buy themselves
Family Photo Shoot: Kristy Photography, JamieLynn Photography –local favorites
Swimming lessons (We love ISR. It's a bit of a commitment, but worth it!)
Fitness class
Gym membership or online workout subscription: YMCA, BeachBody On Demand, Yogaglo
Birchbox
Zoo membership
Museum membership or day pass
State Park parking pass: Where to purchase Michigan Recreation Passport
Chauffeured wine tasting tour
Wine
Overnight getaway (bonus points if you also offer to babysit)
Indoor adventure park coupon: Rock climbing, trampoline park, mini-golf, laser tag
Family vacation in lieu of gifts
Pedicure or Manicure
Massage
Pre-made freezer meals!!
Window washing service
Lawn mowing service
Concert tickets
Day trip and lunch at a local event: Art Prize, Jazz Festival, etc.
Spotify Premium, Pandora Plus, XM radio
Canoe, tubing or kayak trip
In home chef for an evening
A unique spa experience: mud wrap, body treatments
CSA shares (Community Supported Aggriculture)
Restaurant or take-out gift certificate
Road trip gift basket: candy, chips, gas card, iTunes gift card
Replace a beauty product that's running low: face lotion, exfoliant, makeup etc.
Unique lessons: scuba diving, horse back riding, cooking classes, music lessons
An awesome experience: race car driving, back stage passes, paintball
Unique camps: Ninja Warrior Camp, college sports camp
Comedy show tickets
Tickets to the local theater
Escape room
Sporting event tickets
Perishable themed gift basket: wine, beer, gourmet snacks
Book and coffee gift basket/ Amazon gift card for a book & coffee shop gift card
Really any type of themed gift basket: movie night, game night, baking, art etc.
Family water park day trip or overnight stay
Kids day out coupons: Day hike, aquarium, zoo, fishing, ice-cream, theater, amusement park.
Tangible Minimalist Gift Ideas For Kids
I recognize that giving experiences instead of stuff can often be easier than it sounds. It can be difficult to make the shift away tangible gifts. Especially if you're a doting grandmother who has been gifting an abundance of toys for as long as you can remember. No matter what you give this holiday season, it's important to do so with intention.
Here are a few gift ideas that encourage imagination, improve fine and gross motor skills, and promote education. These toys range in age groups and price, significantly.
Keep in mind, this is not a list of must-haves. Rather, consider it a list of suggestions to point you in the right direction, help keep out the junk and focus on gifts that truly keep on giving.
Personalized calendar or photo book: Shutterfly or Snapfish
I See Me books
Osmo Ipad Genius Kit –Compatible iPad required
Perishable foods/snacks you don't typically purchase: Cracker Barrel syrup, favorite sugary cereal, Nutella, Sprite, Gatorade, Pringles
Build your own robot, littleBits, or droid inventor kit
Plants
Laser Tag Guns –Our all-time favorite family past time
Science experiments: Crystal growing kit, geode kit
Musical instrument: toddler music play, keyboard, guitar, ukelele
Games to bring the family together: Rug Checkers, Sorry, Princess Cupcake Game, Risk, Ticket To Ride
Dress up clothes
Box of paper, scotch tape and a stapler (seriously! Always a winner)
Solar System String Lights by Steam Powered Girls (I think I love these more than my kids)
Homemade play dough kit (mix dry ingredients in bag and include further instructions)
Camping supplies: sleeping bag, lantern, tent
Gardening tools, seeds
Regift something from your own childhood (I had saved a handmade doll from my grandmother and gifted it to my daughter. She adores it!)
Bathing suits, sprinkler and goggles (go great with swim lesson gift certificate)
Hunting equipment
Needed sports equipment: New cleats, balls, clubs, leotard, or money toward team fees
Swing set: One big gift in lieu of multiple smaller gifts. Extended family can donate to the cause.
Basketball hoop
Fairy garden accessories (we love to build our own natural houses and decorate with fairy and animal figurines)
Sidewalk chalk
Bike
Bike accessories: helmet, bell, basket
Fishing pole, tackle box and lures
Monthly kit subscription: Kiwi Crate (My kid's LOVED this gift. Careful to not select auto renew!!)
Bubble bath
Paints and craft supplies: Pearlescent watercolors, Shrinky Dink Paper
For more inspiration on the topic of holiday giving check out:
A Grinch Agreement: What It is & Why You Need a Few This Christmas
20 Experience Gift Ideas For Grandparents (and You!) to Give this Christmas
How to Help Family Stop Giving Too Many Christmas Presents
30 Perfect Gift Ideas For Minimalist Moms
7 Perfect Gifts for Minimalist Dads

A Note to the Minimalist…
Remember, we must model gratitude and contentment for our kids in all circumstances. This means if we get bombarded with a bunch of toys we may not have chosen to purchase, we still show gratitude. 
Ultimately people just want to love you and your kids. Let them. Model the grace and gratitude you hope to see in your children.
I recognize it took my 35 years to arrive in this place and I haven't been here for all that long. It's an adjustment for my family as much as it has been for me.
Take a big breath and prepare accordingly.
---
Sick of the clutter, but not quite sure "minimalism" as you know it is for you? You're probably right. Minimalism as you know it, probably isn't for you. It wasn't for me either.
Because of that, Messy Minimalism was born. Messy Minimalism is a doable, grace-based approach to living a clutter free life. It frees you up to embrace the mess, live with less and create an imperfectly perfect home for you.
Messy Minimalism officially releases on December 7th and is available for preorder from your favorite book retailer.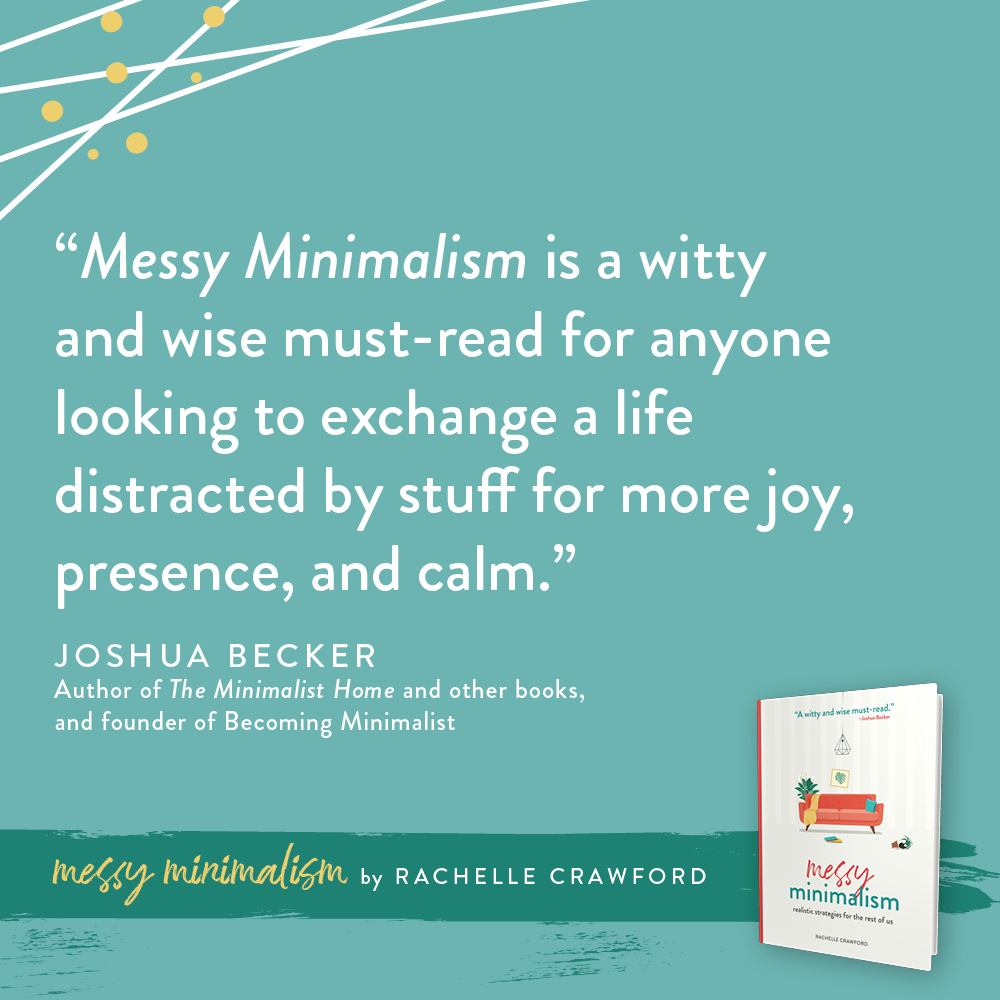 If you preorder Messy Minimalism before December 7th, you'll receive a FREE digital copy of  The Messy Minimalism Companion Guide on the day it officially launches.