Inside: Here you'll find a little reminder that a happy holiday season isn't contingent on you fitting it all in. Here's a message to the one who couldn't fit it all in this Christmas.  
---
The other day, my daughter opened the fridge and pulled out an apple. While closing the door, she turned to me out of nowhere and said, "Wait! We didn't pick apples at the apple orchard this year did we?"
For a second, I froze. She was right.
You see, ever since my oldest could walk, I've taken them to the apple orchard in late September to pick apples. Literally, every year. Partly for the eventual homemade applesauce and apple pie, but a little bit for the photo op too.
I hoped they wouldn't care or even notice we missed it this year, but based on the look my daughter was giving me, she absolutely did.
Here's the thing though. Five-years-ago, this conversation would have wrecked me. The thought of not checking off an important tradition such as apple picking, strawberry picking or sugar cookie making would have devastated me as a mom.
I thought traditions such as these could only be called "traditions" if executed with precision and consistency. Once established, they should be repeated every year for all of eternity. Amen.
I see things differently these days. Perhaps it's because this virus has made us rather accustomed to a lack of predictability, or maybe it's because turning forty forces you to become a little more laid back than thirty. Whatever the reasoning, I've grown to learn that holiday traditions don't need to occur every…single…year in order for Christmas to feel like a success. The joy isn't contingent upon what you're able to squeeze in, check off or experience.
In fact, if as they say, "absence makes the heart grow fonder," then perhaps skipping a year or two will do the same for our holiday traditions.
My response to my daughter was far different than it would have been years ago. Rather than guilt, remorse, and the need to apologize, I felt freedom and intentionality.
I did this on purpose. I chose for our family what mattered most while ensuring we weren't overextended. This is something to celebrate, not regret.
"Yeah," I said, "You're right. This is the first year we didn't pick apples, BUT it's also the first year all three of you played fall soccer. That was so much fun! We just can't do it all and we exchanged apple picking for soccer. I think soccer was totally worth it."
She agreed.
What a gift it is to model for our children the practice of fiercely guarding our time and energy.
Intentional living is about making exchanges. It's about deciding where we are going to spend our time, money and limited energy. It's knowing that we can't fit it all in. It's knowing that some years, our beloved traditions will need to sit the bench to ensure we have the capacity to enjoy what fits. We've got to be willing to physically miss a few things or else we run the risk of mentally missing it all.
Friend, if you didn't fit it all in this year, own it, rest easy, sip some hot cocoa and soak it in what you did.
Perhaps we'll make it back out to pick apples again next year, but maybe not. We'll have to see how fall looks as it nears knowing that sometimes it's necessary to let go of traditions so we can make room for new ones.
---
Sick of the clutter, but not quite sure "minimalism" as you know it is for you? You're probably right. Minimalism as you know it, probably isn't for you. It wasn't for me either.
Because of that, Messy Minimalism was born. Messy Minimalism is a doable, grace-based approach to living a clutter free life. It frees you up to embrace the mess, live with less and create an imperfectly perfect home for you.
Messy Minimalism is available NOW from your favorite book retailer.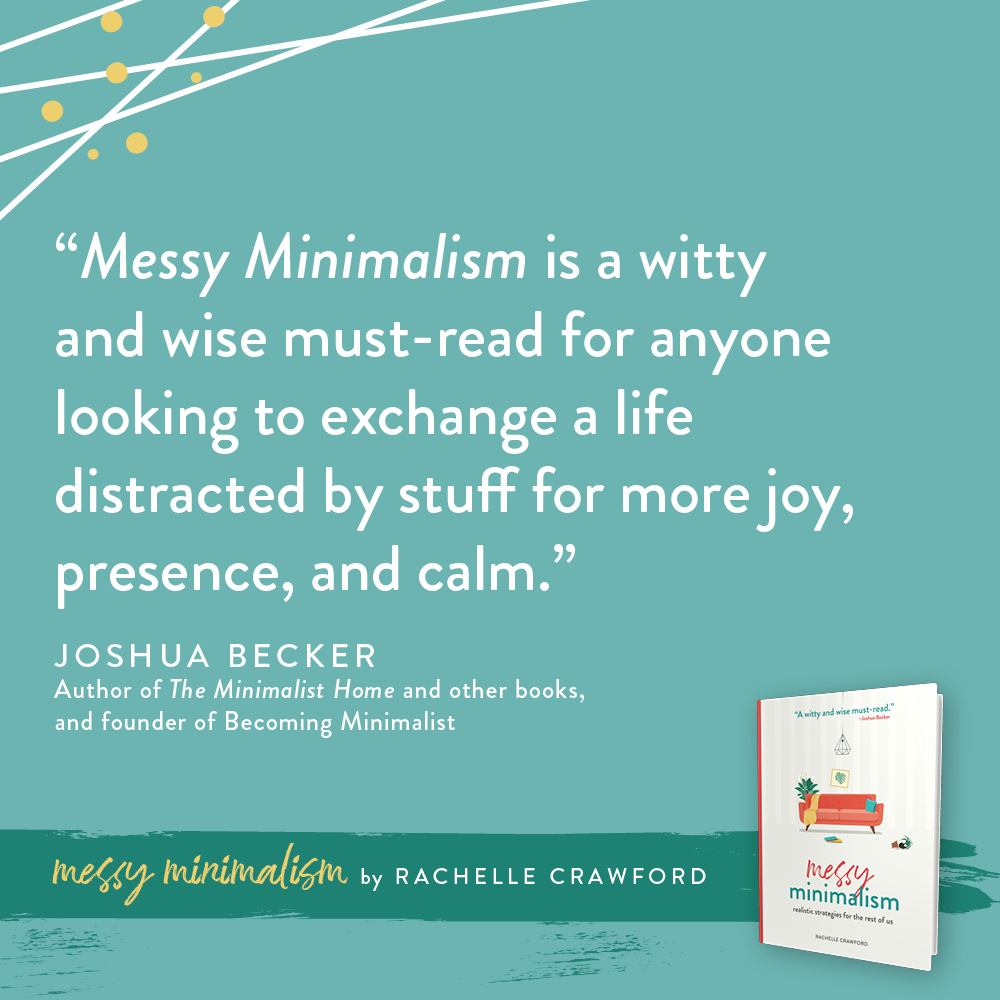 For more information on Messy Minimalism head to MessyMinimalism.com
---
For more inspiration