Inside: Here you'll find our packing lists, itinerary, highs, lows, and lessons learned as we traveled lightly for 12 days in Europe. *
---

Packing Like a Minimalist
My kids and I just returned from middle school retreat. I had the privilege of tagging along as one of the school nurses. This was my first time attending, but I now see why my kids always come home like zombies. It was insanely fun, but unbearably exhausting.
Prior to our departure, as I skimmed through their bags to make sure they had packed all they needed, my eleven-year-old daughter said this to me…
"I spent twelve days living out of a backpack in Europe, I think I'll be okay for three days at retreat." – Raegan
There are several benefits to traveling lightly as a family, but this one right here may take the cake. Traveling lightly helps teach both ourselves and our kids that we need far less stuff than we think. That's true when traveling and when home.
In This Article…
As promised, I'm sharing the details of my most favorite family trip yet. Here you'll find what we packed, products I travel with, where we stayed, our travel itinerary and the highs and the lows we experienced on this trip. Feel free to skim to the parts that interest you, and post any comments, questions, or tips you may have.
Packing Timeline:
Packing early helps us pack lighter. I started packing for this trip about a week prior to our departure. Now, I didn't put things into our backpacks until the day of our departure, but the packing process involves so much more than physically packing.
Start by assessing what you intend to take, making sure seasonal clothing still fits properly. For example, my girls each needed a summer dress, and I found a hole in the elbow of my beloved chambray button up.
While there is no need for a full wardrobe update before every vacation, it's not uncommon to find the kids have outgrown their sandals, shorts, or dresses from the previous summer. 
Packing early also gives me plenty of time to really think through our plans and check the weather report as the trip nears.
Minimalist Family Packing List:
Here is a list of what each of us brought… except for Paul. I forgot to ask him to make a packing list, but shared a few what I could recall.
Toiletries:
*Travel sized liquids, 3 oz or less.
Laundry detergent*
Body lotion*
Contact solution*
Curl cream (2)*
Bar soap
Sunblock*
Deodorant
Toothpaste (1 per person)*
Tide pen
Make-Up Bag
Mascara
Fingernail clippers
Tweezers
Burts Bees pomegranate chap stick
Disposable make-up wipes
Extra hair ties
Q-tips

Medication:

Motrin
Tylenol
Band-Aids
Neosporin
Antibiotics (just in case)
Albuterol inhalers (2)
Oral steroids (just in case)
We were easily able to distribute our toiletries between two backpacks in quart sized Ziplock bags. With TSA pre-check, we didn't have to remove any of it from our packs to go through security.
Miscellaneous:
Collapsible Daypack: One of the handier items I take along for all family vacations is this compact backpack. Here's a link to the updated version of the one I bought years ago.
It may seem redundant to pack a backpack in my backpack. However, the packs we travel with as luggage often contain clothes and tend to be a little larger than you'd want to lug around the city for the day. This is a lightweight daypack for things like sweatshirts, water bottles, snacks, city maps, medications etc.
Activities for the Plane:
We packed one iPad for each child with games and movies downloaded to it.
Amelia loves working through school work books.
Neck Pillows: I bought two of these as a last-minute purchase, hoping they'd help at least someone get a good nap in on the plane. I'm glad we brought them, though we did lose one along the way somewhere.
Clothing
Raegan
Packed
1 dress
1 romper
2 tanks
2 Ts
2 shorts
1 black legging
1 sweatshirt
4 underwear
1 pajama
2 socks
Birkenstocks
1 Swimsuit and cover-up
Wore on the plane:
Sweatshirt
Jeans
T-shirt
Tennis shoes
Amelia
Packed:
3 dresses
1 long sleeve shirt
2 tanks
1 t shirt
1 cardigan
1 chambray button-up
1 legging
2 shorts
Crocs
1 swimsuit
2 stuffed animals
Wore on the Plane:
T-Shirt
Leggings
Sweatshirt
Tennis shoes
Jameson
Packed:
6 t-shirts
3 shorts
1 pajama pants
1 black pant
1 swimsuit
4 socks
5 underwear
Birkenstocks
Wore on the Plane:
Athletic pants
T-shirt
Sweatshirt
Tennis shoes
Me:
Packed:
1 black jeans
1 sweatshirt
2 shorts
1 black cardigan
2 nicer tops
4 tanks
1 T-shirt
3 bras
4 underwear
1 pajama
Birkenstocks
1 bathing suit
Purses: Fjallraven Kanken Sling Bag
Wore on the plane:
T-shirt
Jeans
Tennis shoes
Chambray button up
Paul:
Unfortunately, I did not write down or snap a photo of what Paul took with him, but based on the photos I can tell you this…
He brought two pairs of shoes and two jeans (one of each he wore on the plane). He also brought two long sleeve shirts, five short sleeve shirts and two pairs of shorts.
His favorite clothing brand is, Good Life. They fit his extra-long arms well and are excellent quality. Of course, he still heads to their sales page first. 😉
Travel Itinerary:
I'll try and keep this section as concise as I can, so it doesn't begin to feel like I've trapped you in my living room to watch a slide show of our family vacation. However, it still may. Feel free to skim along to the parts that are important to you.
Day 1: Arrived in Rome at 0830
Airbnb: Rome
Since it was still early, we dropped our luggage off at an hourly luggage storage spot and wandered the city while exhausted. Keeping the kids awake and moving was a struggle, but we lured them along hour by hour with gelato, pizza, and pasta.
At 2:30pm we were able to check into our Airbnb and take short naps. Though they only seemed to make everyone more tired. Jameson literally fell asleep at lunch with his head on the table.
This wasn't just a little cat nap either. No, he went into full REM and had no idea where he was when we woke him up.
To recover from a major time change like this, it's best to push through on that first day. Sleep as little as humanly possible as long as you can. This will help you avoid waking up at midnight feeling like it's 10am. Pushing through on day one will save you days of agony but be prepared. Day one is the worst!  
One thing my kids refer to is just how terrible they felt during that first day. I asked them halfway through it if they felt was the flight was worth it. "All of them said no way. This is terrible." But… I repeated that same question just 24 hours later and they all said, "Yes!" Today, they are very willing to do it all over again.
Somehow, we made it to dinner with sleep walking children and all crashed at around 8pm.
Day 2 and 3: Rome
The next day we woke up feeling like completely new people and spent two full days exploring Rome. We visited the Colosseum, walked to the Vatican, and enjoyed a walking food tour through Trastevere that we booked through Airbnb Experiences.
Day 4: Travel to Amalfi by train
We took a morning train from Rome to Salerno and then grabbed a taxi to the small town of Cetara on the Amalfi Coast. Since Cetara is a smaller, lesser-known Amalfi town, it wasn't nearly as busy as towns like Positano and Amalfi.
I failed to get interior photos of this spot, but the link pictures do it justice. In fact, it was better than the photos. This was our favorite stay during our entire trip… for obvious reasons. I'd certainly stay here again.
It was pricier than we normally book, but such is the price of multiple beds, air conditioning, and laundry on the Amalfi coast.
We spent that first day getting acclimated to the town, eating, enjoying our ocean front Airbnb and rock hunting on a nearby beach.
Day 5: Amalfi
During our first full day on the coast, we met up with friends living in Naples and visited the town of Amalfi by ferry together. I was blown away with just how gorgeous, yet congested Amalfi was. Apparently, June isn't even peak travel season for the Amalfi Coast and already it was more crowded than we are accustomed to for travel.
Day 6: 
We spent this day simply enjoying Cetara (much more our pace). We did more rock hunting, swimming, rented beach chairs at the local beach, ate more gelato, enjoyed lunch in town and then capped off the day jumping into the ocean off the patio of our Airbnb.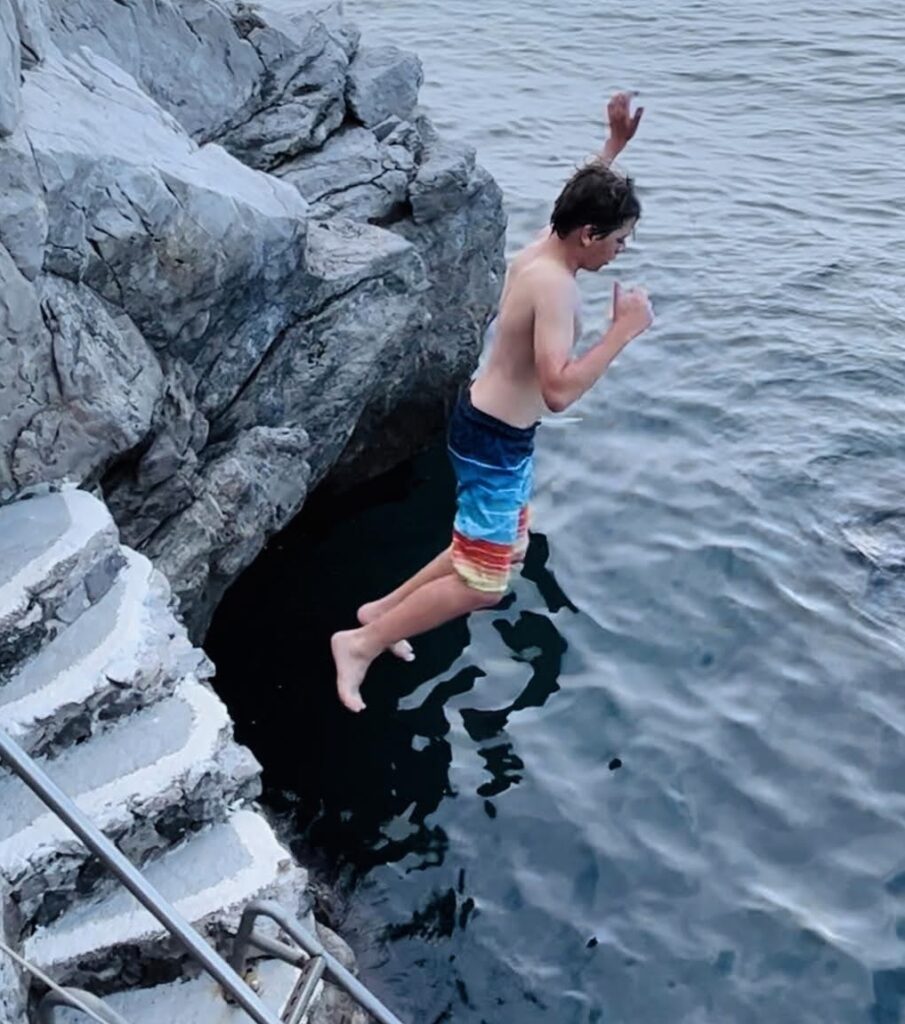 Day 7: Day trip to Pompeii
This was probably our highest high point of the entire trip. We booked this excursion through Airbnb that included horseback riding on Mount Vesuvius, lunch at a winery, and a two-hour private tour of Pompeii.
They picked us up and dropped us off right at our Airbnb. This was by far our most pricey day in Europe, but it was such a highlight for all of us.
Day 8: Fly to France
We arrived in France at noon, grabbed our rental car and headed toward the town of Dinan. It's a small town, impeccably preserved as it managed to avoid bombings during World War 2. Wandering through Dinan felt a little (to this very American family) as though we were transported to the little French town in Beauty and the Beast.
After getting settled into our Airbnb, we simply wandered through this beautiful town, ate dinner, and then went for dessert crepes.
Day 9: Dinan and Saint Malo
Saint Malo is a gorgeous coastal town about thirty minutes west of Dinan. After breakfast and a bit of wandering through the Ramparts while drinking coffee in Dinan, we headed over to Saint Malo. There we spent the day savoring all this town had to offer. We could have spent more time enjoying the slow pace of France's west coast.
Day 10: Paris
In the morning we grabbed coffee and the most delicious pastries I've ever eaten for our road trip back to Paris.
We dropped our rental car off at the Paris Orly Airport and grabbed an Uber to our final destination. This hotel was actually more like an apartment, and I would definitely stay here again. It was so cute, and the location is perfect. Apparently, I forgot to take any photos of it though. It was located near the Louvre in a building above a restaurant.
We let our kids relax and watch a movie while Paul and I went downstairs for a much-needed mini date. A wicked storm rolled in while we sat under an awning drinking local French wine, watching the chairs and umbrellas go flying. It was magical.
Once the storm passed and the sun came out, we made our way to dinner at La Escargot. There we ordered all the traditional French dishes for our kids to try duck confit, escargot, frog legs and foie gras.
We ended the day in front of a twinkling Eiffel After (obviously).
Day 11: Paris
We woke bright and early to see as much of Paris as we could before the crowds picked up. Since it was the weekend, we knew it would be rather crowded.
After visiting the Sacre Coeur, we had lunch eat at Creperie Broceliande in Montmartre. Back in 2014, Paul and I visited this restaurant during a food tour. I've been dreaming of these crepes ever since. I'm no Parisian, so don't take my word for it, but these crepes may just be the best in Paris. They are melt-in-your-mouth amazing. I would highly recommend stopping here if you visit Paris anytime soon.
Day 12: Headed home 🙁
We were all caught between sad and eager to head home. Which I think means 12 days was the perfect amount of time for our family's first trip to Europe.
Things I wish I had accounted for
Picky eaters:
This really didn't pose too much of a problem. However, I wish I would have been more mentally prepared for it. I just pictured our pickiest one, willingly trying new foods. (That's on me.)
We pivoted by stopping at local markets for fresh fruits, vegetables, and milk so that she could eat healthy snacks while almost exclusively eating noodles with butter at every single restaurant. Win win.
Long air-dry times in the coast:
Our accommodations in Italy only had washing machine. No dryers. This was fine in Rome, but on the coast, the humidity made drying clothes take a lot longer. We got rained on during our last day in Cetara so I used a hair dryer to get our shoes dry before we traveled the next day.
Motion sickness for myself and kids:
It's one thing to feel motion sick yourself, it's an entirely different thing to feel motion sick while also having to care for children who feel motion sick as well. If you are prone to motion sickness, beware of the Amalfi Coast. Unlike Cinque Terre, there isn't a train connecting the coastal towns. To get around you must travel by bus, car, or ferry. I knew that going in, but was ill prepared (literally) for just how curvy the roads were along the Amalfi Coast. Next time, I'd be sure to pack AALLLL the motion sick meds, patches, and wrist bands. All of them.
More underwear:
One thing I remember thinking while there was that it would have been nice to have packed another pair or two of underwear for everyone. They would have easily fit and packing just four underwear made us have to do laundry more than I would have otherwise. We survived just fine, and it wasn't a major issue. Just something to consider for next time.
Pack better snacks for the plane:
My kids were not feeling the airplane food. It would have been helpful to pack some filling and healthy snacks for the flights. Gummy bears can only get you so far.  I was surprised by the meal choices served on our flights. They contained very strong and even spicy flavors making it difficult for our kids to eat it. They were hungry so they ate what they kid, but they were left still hungry.
Bonus Tips:
Set up a Google Photos Account Before You Leave:
Shortly after arriving home, I dropped my phone in the lake. As it sank into the shallow water below, I wasn't all that worried. After all, iPhones are supposed to be waterproof. Aren't they? My nephew hopped in and retrieved it for me within seconds, but it was DOA.
Long story short, my phone hadn't backed up to the cloud and if it wasn't for Google Photos, I would have lost every single photo I took on our trip. I may be a minimalist as it pertains to stuff, but when it comes to photos, I'm a total hoarder. I'm not even sorry about it.
I felt as though I was walking the plank as I made my way from the lake to my computer to check and see if they were there… There were. I've never been so grateful for Google Photos as I was on that day.
All that to say, if you don't have a Google Photos account, I'd highly recommend one. Don't leave home without it.
Google Translate
In larger cities like Rome and Paris, it was pretty easy to find individuals who speak English. Many restaurants even
Questions & Answers
You asked, so I'm answering. Thanks to everyone who contributed questions on Instagram.
"Were there things you packed, but didn't ever use?"
There were a couple articles of clothing each that we didn't wear or wore very little. Overall, I think we used what we brought. I only wore my black jeans one time and packed one too many bras and nice tops. My son never ended up wearing the nicer pants I packed for him either. (Middle school boys.)
My girls were very content to re-wear their favorite outfits on repeat. I probably could have packed fewer tops for Amelia because she mostly wore her three adorable dresses.
We also left the instructions for the punch needle embroidery kit at home. On the plane, my daughter tried to use it, but neither of us could remember how to thread the needle correctly. Oops. She ended up not using that on the trip at all.
"Was there anything you had to buy because you didn't pack it?"
Not this go around.
In the past, we have had to grab sweatshirts when it was surprisingly cold in Florida for one trip. On another trip, I had to buy a thermometer and Tylenol because two kids came down with strep throat. It's annoying when it happens, but it's never been that big of a deal.
"How many times did you stop to do laundry? What did you do with dirty clothes?"
For the trip home, I always designate one backpack for any dirty clothes.
As for laundry, we washed our clothes several times on this trip. One to two times per location. We stopped washing clothes during our last two days in Paris. At that point we were good for the remainder of the trip.
"What age is it realistic for kids to carry their own backpack around?"
My kids were 13, 11 and 7 at the time of this trip. The older two were able to carry their own bags for the entire trip, no problem. However, our youngest got tired of it easily. (Maybe that's just a youngest thing though;))
She was able to carry her bag when we needed her to carry her bag, but Paul would relieve her of it during the longer walks or when we were in a hurry.
We were also very intentional about what we put in her pack. We put the heavier items (toiletries, shoes, ipads, etc.) into the older kids' bags. I recommend you have them carrying packs as young as possible. Just make sure the pack is the appropriate weight and size for their bodies.
"What did you take to occupy you and the kids on the long-haul flights?"
For the most part, our kids watched the movies Delta provided.
See photo near the top for the few activities we brought for them.
"Can you Share a Link to the Backpack you Use?"
The time has come where I can no longer find a link to this pack. Osprey has replaced it with other packs. I chose the best Osprey packs for us by trying them on and ordering from Moosjaw.
If you choose to travel with a backpack, I'd recommend a 40-46 L pack for air travel. My husband has the older Osprey Porter 46 and mine was called Osprey Fairview 40. Osprey packs are an excellent, quality pack and have great support for standing in customs and on long walks to the train station. My daughter uses the Osprey HikeLite 28. It offers the same support, but not nearly the space of the 40L. Obviously.
"Did you take your own water bottles? I hate buying water bottles."
We did not. We bought disposable water bottles most days and then refilled them a few times each. While we do typically use our own reusable water bottles, on this trip I didn't want to have to carry them around everywhere we went. And I didn't want to lug them across the world and end up not using them. Which is likely what would have happened.
"How much did each of your bags weigh?"
I never weighed them. If weight is an issue for carry-on bags, we've never experienced it. If you can carry it on your back, it fits in the overhead bin, and it's within the dimensions for carry-on bags, then you should be good to go. Or at least that's been our experience.
"What are your children's ages? They must be past car seat stage? No stroller needed?"
Definitely. In order to travel with only carry-ons, you'll need to be in a season of life where you don't need to check strollers and car seats.
However, here's the thing about traveling to Europe without extra-large roller bags. If you're going to be traveling by train or car, it's far easier to get around with just backpacks (or smaller suitcases). Trying to push a stroller while pulling an extra-large suitcase is remarkably difficult. Especially on cobblestone streets and down train station stairs. Besides, packing lightly is a great habit to get into while your kids are young so that when you are infant accessory free, you'll be an expert.
Minimalist Packing: Risk vs. Reward
As you contemplate whether traveling lightly is for you, here are few risks and rewards to help you decide.
Risk
You could end up needing something you didn't bring.
You may need to pay more for accommodations with laundry. (Though it doesn't always cost more).
Can't necessarily carry-on car seats, pack n plays or golf clubs.
You'll have to carry more luggage through the airports than if you just checked it all.
Makes bringing large or liquid souvenirs home, difficult.
We don't typically buy souvenirs, but on this trip, we did plan for them. However, we were also given gifts by a generous shop owner, winery owner and airbnb host. Our smaller luggage size did mean we had to leave a large book behind because we just couldn't make it fit.
Amelia was immediately captivated by this sweet, unique gift from our lovely Airbnb host. She refused to leave it behind. It was hollow and came with cookies inside. Fortunately, Paul was able to stuff it full of clothes and fit into his backpack for the trip home.
You can be forced to check you bags last minute.
If you happen to be the last to board a full flight, they may make you check your carry-on roller bags at the last second. We have never had this happen to us because our bags are on our backs. However, we have seen this happen to passengers in line around us with carry on roller bags.
Reward
Be the first in line for the rental car line. Literally, this saved us a ridiculous amount of time at the Paris airport. As we walked to our rental car, there were at least five other families in line behind us. Being able to get even just a minute in front of a large crowd at an airport is a huge time saver.
Cost Savings:

We haven't paid for a checked bag in over seven years.
We selected a smaller vehicle when renting a car in France because our bags easily fit in the car. (Though we were just informed that we do have a traffic ticket waiting for us in France. Oops.)

Easier to travel by train to different cities within the country.
Lost luggage is on the rise. Carrying on your luggage means you don't risk losing it.
Souvenirs:
We didn't have to put restrictions on how many souvenirs our kids bought. Our luggage did that for us. Each of the girls bought a leather purse from Italy and a necklace from France. They wore them home.
Jameson bought a hat from both Italy and France. He didn't care to buy anything else.
We always like to bring home a few consumables if we can. This time we brought home cotton candy gum and lemon candies from Amalfi Coast and, of course, Macarons from Paris.
More Travel Tips
The best tip I can share with you as you begin to travel lightly is this: Just go for it. Don't over think it. Don't stress over finding the perfect minimalist packing list to prevent you from accidentally leaving something behind.
It takes practice and a willingness to roll with any discomfort you may encounter. In time, it gets easier and easier until eventually you're more annoyed at the thought of packing too much than you are at packing too little.
If you've made it this far, I suspect you are looking for even more travel tips for traveling lightly. If that's the case, read:
How to Pack Lightly + What I Packed for 8 Days in Italy
*This post contains Amazon affiliate links.
---
Need Some Serious Decluttering Motivation?
Sign-up for my new, FREE 3 Day Email Series, Unstuck.
Here we will tackle 3 common decluttering obstacles so you can let go and get uncluttered for good. If you've ever gotten started and then gotten stuck, this FREE resource is for you!
---
Sick of the clutter, but not quite sure "minimalism" as you know it is for you? You're probably right. Minimalism as you know it, probably isn't for you. It wasn't for me either.
Because of that, Messy Minimalism was born. Messy Minimalism is a doable, grace-based approach to living a clutter free life. It frees you up to embrace the mess, live with less and create an imperfectly perfect home for you.
For more information on Messy Minimalism head to MessyMinimalism.com
---
For more inspiration follow Abundant Life With Less on Instagram.